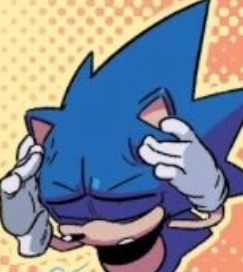 I'm going to give it to you as blunt as possible right now.
Because I'm gonna need you to back up and look at what you do.
Let us start with me saying this:
Am I the best person here? No.
In fact, I'm an absolutely terrible person for multiple reasons and shouldn't be the one doing this.
Someone
much
better should be responsible for this.
But here we are.
You claim I'm a nuisance, but you're not some moral king either.
The reason I get the impression that many jokes simply don't touch you is the way you respond to them.
Which made me think.
You don't respond by ignoring them, not by playing along, not by simply saying you dislike them, but instead by wording them heavily as if you believe you're this great person that's better than everyone else and then attempting to "degrade", let's say, the integrity of the person you believe you're higher than.
Let me quote something you said from the most recent topic in memory of this, right now.
Rajikaru

wrote:

↑

Fri Jan 12, 2018 12:06 am

This is unrelated to VR chat but since I'm here, Lamby, kindly crawl back underneath whatever moss-ridden stone you crawled out of. You're much more of a nuisance than people like chaoadventures could ever be. Even if they make dumb jokes, I know it's just because they're younger and they'll eventually grow out out of it and be proper citizens and contribute to society.
Let's pick this apart shall we? No? Too bad we're doing that anyways.
Okay, let's start with the fact you started with an insult.
Oh wait, no, let's stop and go back further in the topic.
Let's review
our prior conversation
, hm?
I say, I didn't expect you to enjoy these types of jokes in the first place.
You say you do, and don't like the ones and the ways they're posted here.
And I say, okay in the (admittedly over) verbose format I usually use.
Then you come at me with insults for some reason?
Like, the ensuing parts are completely foolish on both ends, like mine's this weird attempt to mend things that fails to get to the point properly and yours is you being a complete jerk and mocking me, but also addressing the fact I didn't address the correct point.
Regardless, fact remains you just started hurling insults at me anyways.
Back to the quote I was going to analyze:
Right, so you start by telling Lamby to "crawl back underneath a stone".
Firstly, freakin' rude man.
Secondly, and more importantly to my argument, Lamby did nothing wrong in that topic, yet here you are lashing out at her?
I don't follow the logic here? You're attempting to make yourself seem tough, apparently? Like, to intimidate and frazzle your argumentative opponent or something?
That's just low man. Insults just to get your side to victory?
Then you call me an nuisance and an unkempt citizen that doesn't contribute to society?
Hold on, that's not how it works.
You don't know what I contribute to society anymore than I know you do.
For all I know or care it could be
absolutely nothing
.
You don't know what my life ambitions are and what changes I want to add to the world are.
But nope, no, you're over here trying to fire metaphorical gunshots at people.
Another thing I noticed is when I happen to push you into an unfavorable position, OR you place me or someone else in a position that you believe can't be argued against (which has yet to be true) you try to employ your "moral high ground" as a closing statement. Even though I started writing this earlier than his post, I agree with Triert saying you keep putting on this "too cool for this" act when doing this.
For example, what's this "
life is all memes
" crap?
The heck?
Yeah, and the kids these days are completely and 100% into saying "rad" and "tubular" and also ""x-treme" sports".
What, do you work for an old TV company or something?
Kids don't know a lot of things, but for some reason adults like
you in particular
, seem to assume that they don't know the exact wrong stuff.
For your information, life is about who is in a position of power, the struggle to survive, and the ways people choose to cope with that, in brief summary.
I just want a quick laugh to help myself though the week and get my schoolwork in. Not this "lol sick meme bro" thing you seem so confident in.
I've literally never even written that acronym before, out of professionalism.
Additionally, if you haven't noticed, I don't state that "the other person needs to drop it because we've been going too long" in the middle of something to exit it, if something hasn't been resolved.
Instead you leave, claiming that you've won, for one reason or the other, in this fashion or that, even though all you did was argue with the other person, insult them more than they did you, and then leave.
In conclusion, instead of letting people be or just telling them you dislike what they're doing, you seem to have a very innate need to also attempt to deeply degrade them as a person and gloss over the fact they aren't doing any actual harm, even though all you succeed in doing with that is needlessly punching people verbally and being this bully trying to daunt people for no real good reason.
In the end, I'd say, you aren't better than the people you're attacking when doing this:
You're worse.
Much worse.
Even if your argument makes you be the superior, I find that the way you achieve your goals is sickening.
Fortunately for me, even if my point doesn't get through to you or anyone else, as I believe it most likely won't, typing like this makes me better at finishing my school papers in about an hour, so ultimately no skin off my back if you continue being mean to people online, since I'm not going to die, loose my current residence, get terrible grades in school that will limit the colleges I can choose from, or anything near as severe, which is the approach I feel you should take instead of attacking people.