^ Title
Dug around the japanese internet and I found the method that the character chao were obtained in the japanese version. No, it was not an event. I'll share if no one else has contributed this information as I don't want to make a redundant post.
EDIT:
I feel dumb for saying there were no events; after further digging, turns out there were events.
Right, so first off, the demo disc.
DEMO DISC
This is the "Nintendo Gamecube 2003 E-Soft Catalog". These were packaged with enterprise bundles in Japan only (not sure if you could get them outside the bundles). Software catalogs did exactly what the name implies: catalog software. Listing 116 titles at the time of release, it also contained demos of a few games, one of them being SADX.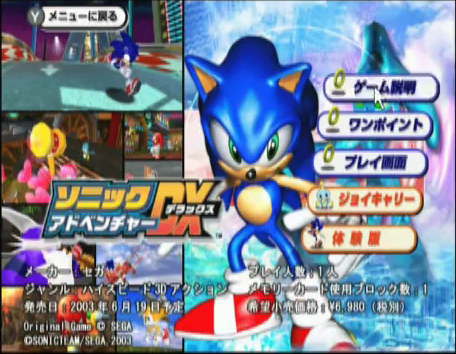 The tab with the Chao reads "Joi Kyarii", which is an abbreviated katakanization of "Joy Carry". Joy Carry is a Gamecube term used in japan to denote the downloading of minigames to the GBA from a GCN software.
Selecting the tab let you download a multitude of minigames from the "Sonic Team Joy Carry" collection.
Puyo Puyo with Everyone, Chu Chu Rocket and Tiny Chao Garden could be downloaded.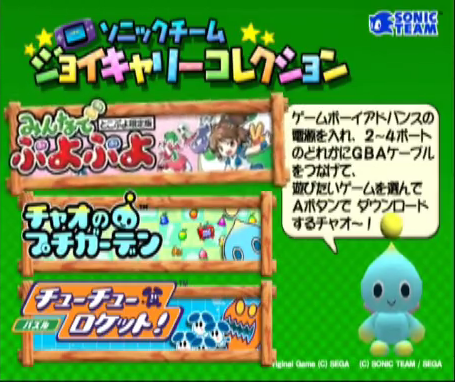 Upon selecting the chao game, you were prompted to select one of three chao to put in the garden.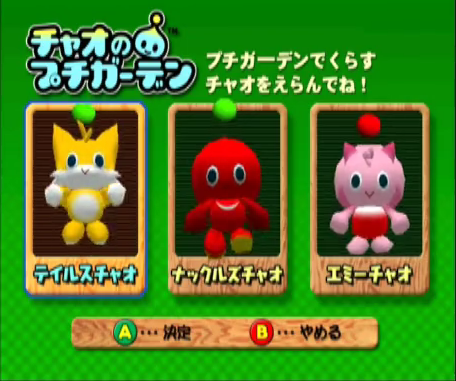 The next screen brings you to a loading screen where your chao is processed. It reads "LEA CHAO DOWNLOAD". "LEA" or "REA" being a katakanization of "rare", as character chao are referred to as "Rare Chao" in japan.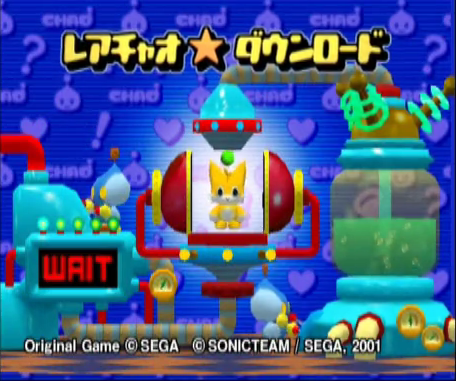 Transferring the chao to SA2B or SADX gave 1000 Rings as well.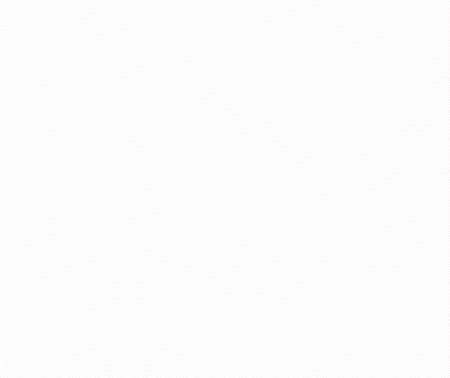 EVENT
You could obtain them at an event too. These were pictures taken from the 2001 World Hobby Fair and some Sonic Party.
Image courtesy of some japanese geocities site
Image courtesy of game watch impress
Image courtesy of famitsu
Also I can't seem to find the picture now, but there was another revision of the software that let you download a Shiny Sonic, Shiny Shadow, Shiny Tails, and Regular Knuckles and Amy chao. I'll update this post once I find it.
Ok that's it I hope this post enlightened your soul.